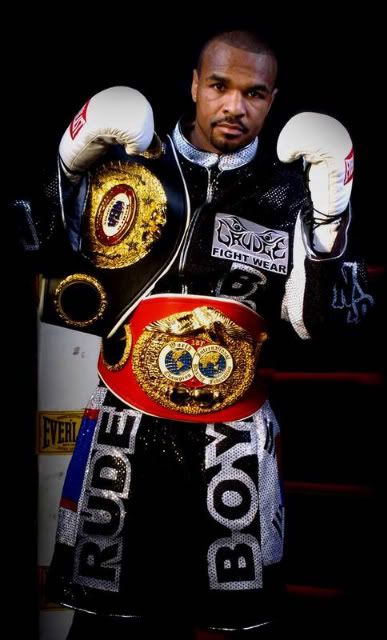 From boxingscene.com:
Verno Phillips Interview
QUESTION: How can you prepare for a fighter as tall and long as
Paul Williams
?
ANSWER: I am going to use the experience from my past fights. I won't give away my techniques that I am going to use but I can tell you that I'm going to chop him down to my size.
QUESTION: It is seldom that a natural 147-pound fighter such as Williams is bigger than most middleweights. With you being 5-7 and having a 69" reach, how difficult will it be to try to hit Williams on the chin given his height of 6-3 and 82" reach? Now keep in mind, the Klitschko's, current Heavyweight World Champions, 6-6 Wladimir and the 6-7 Vitali, have a reach of 81" and 80" respectively.
ANSWER: He's going to get hit. Trust me. I fought Silvio Blanco from Italy. He's taller than Paul and I had no problem hitting him. I'll tell you what; Williams chose the wrong date to knock on my door for an opportunity. November 29-fight night is also my birthday and I ain't coming to California to lay down.
QUESTION: Do you believe the weight factor will be in your favor or his?
ANSWER: Williams is coming from 147 to 154 and I am a natural 154 pounds. I am very comfortable with my weight, so naturally the weight factor is in my favor.
QUESTION: Needing a very honest answer, what has been in your mind since accepting this challenge against Williams knowing the so many different obstacles to overcome such as height, reach, volume punching and the added strength in his punching power?
ANSWER: Since I accepted the challenge against Williams I didn't pay attention to all those things that you consider obstacles. I know that he can take a punch, but I also know that I have been training hard. He's no different than any other fighter that I have been in the
ring
with except that the press is blowing him up like he's invincible.
FINAL COMMENT: I know that he's looking past Verno Phillips thinking I ain't no thing. He needs to know that on November 29, Verno Phillips is going to have something for him. He ain't gonna lay me out like Quintana.