By JD Camacho, DoghouseBoxing.com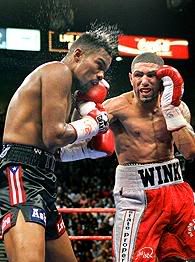 They never come back.
That's one of boxing's oldest laws. Winky Wright, at one time among boxing's best, is the next in line to try and defy it against the albatross-like Paul Williams. Wright must contend with a decade-long disadvantage in age and nearly two-years outside the professional game before he even steps into the ring.


On April 11th, Wright will try to duck
, block, and slip
(but mostly block) punches from the longer, taller Williams. And while Williams may not be as physically tyrannical as Hagler, he does offer imposing dimensions and a worrisome workrate. Williams has also stopped his last three opponents at three different weight classes, an indication of improved punch technique.


Wright, at his most effective, blunted his opponent's offense with his shell-like defense while ticking out his right jab like a clock hand. The jab drove his foes mad. But fighters, like clocks, can be off. How off is Wright?
Many of the very greatest were off when they made their way back. Dave Anderson of the Sydney Morning Herald wrote, in 1987, "Muhammad Ali couldn't come back against Larry Holmes. Joe Louis couldn't come back against Rocky Marciano. Jim Jeffries couldn't come back against Jack Johnson. And middleweight Sugar Ray Robinson lost to Ralph (Tiger) Jones in one of the six bouts in his comeback campaign before dethroning Bobo Olson." Robinson. Jeffries. Louis. Ali. These are names held in high regard in the boxing world. They were all off - behind rather than ahead.
Or, perhaps Wright could glance at his contemporaries as he passes them by. Jones. Trinidad. De La Hoya. All great fighters in their day, but as they walk into the sunset they perhaps carry with them the knowledge of too much time off, too much inactivity, and too much wasted time.


Two more months await Winky Wright before he reaches the destination
. Two more months of age and idleness to add to his body. Two more months for Wright to find his way.