JUNIOR MIDDLEWEIGHT
Current Lineal Champion: None

Last Lineal Champion: Winky Wright

Length of previous lineage: 12/16/1995 – circa May 2005

Champions during lineage: Six (Wright UD12 Shane Mosley; Mosley UD12 Oscar de la Hoya; de la Hoya UD12 Javier Castillejo; Castillejo MD12 Keith Mullings; Mullings KO9 Terry Norris; Norris UD12 Paul Vaden for vacant World title)

Do we burn it down and just start all over? There's plenty of talent to be found in the junior middleweight division. The trick is to get them to face each other, which simply hasn't been the case in recent years.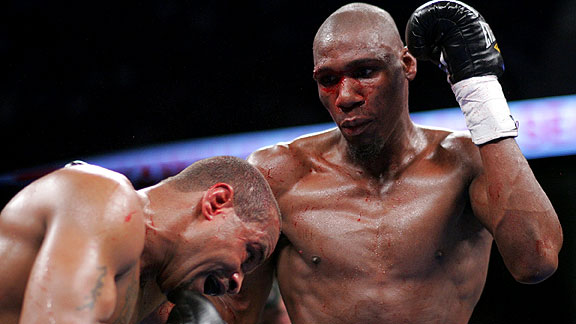 A glance at the top ten shows that there simply aren't enough money-generating bouts to convince the fighters to face one another, or for the networks to even express any kind of interest. Case in point, Paul Williams faces Winky Wright in April for no other reason than HBO owed both fighters a TV date. Neither fighter stands to gain much with a win, especially Williams since the fight will take place outside of the junior middleweight division.
Top-rated Vernon Forrest is rumored for an April return against Charles Whittaker. The alphabet title he presently holds comes with the obligation of next facing Sergio Martinez, fresh off of his double-win disguised as a highly controversial draw against Kermit Cintron on Valentine's Day. Failure to do so could result in his being stripped, though should do little to affect his number one B-Scene 154 lb. ranking.
Rated in between Forrest and Williams are Daniel Santos and Sergiy Dzinziruk, who already faced each other once before (Dzinziruk taking a 12 round decision in December 2005). Neither party seems to be in a hurry for a rematch, nor will any stateside network likely ever express any interest.
Cory Spinks was in line to fight for his old alphabet title in an all St. Louis grudge match with crosstown rival Deandre Latimore. The bout, once slated for March 28, is now in serious jeopardy of not happening at all, certainly not anytime soon.
Undefeated prospects-turned-contenders James Kirkland and Alfredo Angulo have already caught the eye of industry leader HBO. Angulo is fresh off of a fifth round stoppage of Cosme Rivera, while Kirkland is scheduled for a far more dangerous test against Joel Julio on March 7.
The common thread in their opposition to date is that, while respectable, none have been particularly tough to track down in the ring. Exciting, balls to the wall styles are what helped Kirkland and Angulo unofficially make it to HBO's stable, which only means that both will be kept away from any pure boxing style for as long as possible.
Martinez remains a dark horse, but needs fights against the division's best in order to propel up the rankings. Vernon Forrest fulfilling his mandatory would be a great start, though it looks for the moment like he's content to give up a belt if it meant continuing to call his own shots.
Even if Forrest fights and defeats Martinez, and say Paul Williams continues to win out against anyone at the weight – a meet between the two will never happen so long as they are both advised by Al Haymon.
It will take for a Santos or Dzinziruk to step in at that point, and for a network to show any sort of interest. Either that, or openly root for a series of losses among the top four or five spots, and hope that the next generation can clean up the lifeless mess that has become the junior middleweight division.