By Lyle Fitzsimmons - BoxingScene.com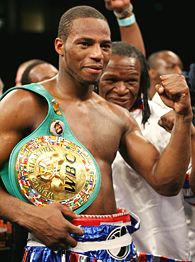 Coming to a convention center or casino parking lot near you… the 2011 fight of the year.
Chad Dawson vs. Paul Williams.
For the undisputed super middleweight championship of the world.
Sound farfetched?
Not if you ask Dawson, a rising 26-year-old who's not averse to the idea of dropping a few pounds to pursue bigger fights if hoped-for matches at 175 don't work out.
"I don't think he could come up to light heavyweight, because that'd be too much for him to put on," he said, "but at 168 that's a fight that could make sense someday, especially if he's sure that he's done everything he wants to do at welterweight."
Williams fought in three weight classes in his final three fights of 2008 - beating Carlos Quintana at welterweight (TKO 1) in June, pummeling Andy Kolle at middleweight (TKO 1) in September and punishing Verno Phillips in between at 154 pounds (TKO 8) in November.
He's expected to face Winky Wright in April in Los Angeles.
"I could always move up to cruiserweight but there's really not a lot going on up there, so I'd be more likely to move down to 168 if an opportunity presented itself," Dawson said. "I couldn't make 160 without cutting off a leg, but fighting at 168 might actually be my best weight."
------------------------------------------------------------------

Well, this would be a great fight. However, I hope to never see Paul Williams fight over the weight of 160 (middleweight). Any heavier than that and he loses some of his natural advantages, his height and reach.