Quotes from today's press conference to announce Winky Wright vs. Paul Williams on April 11 in Las Vegas.
Winky Wright, Former Undisputed Junior Middleweight World Champion: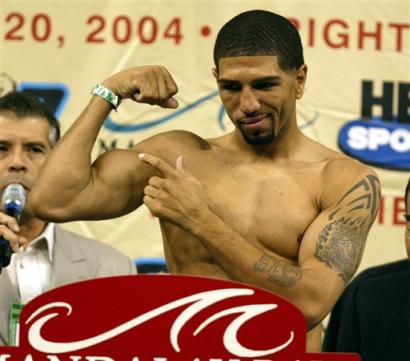 "I get a lot of people asking me why I'm not fighting. I tell them it has nothing to do with negotiations, it's because no one wants to fight me. No one wants to fight Winky Wright. They say it's about the money, but it isn't that. I wanted to fight Pavlik and Calzaghe, I'd go to England to fight him if he wanted, but the fact of the matter is, no one wants to fight Winky."
"I'm looking forward to the challenge, I want to show I'm more than a defensive fighter. Yeah I'm a defensive fighter, but I've never seen a boxer win a match without throwing punches. I'm definitely gonna need my defense against Paul, because he throws a lot of punches. I don't go for the knockout, boxing is a sport and it takes more than that."
"I've never been known to quit and Paul's never been known to quit, but someone's gonna have to and it's not gonna be me."
Paul Williams, Two Division World Champion:
"I'm blessed to be here, and I'm ready to fight Winky."
"He's a big name in boxing and I'm gonna try my best like in my past fights."
"I don't do a lot of talking, I do my talking in the Ring. I just want to work hard and have a good time."
Richard Schaefer, CEO of Golden Boy Promotions:
"There is no question that these two are the most avoided and feared fighters in the sport today."
"There are reports out about Winky Wright not being able to negotiate, being stubborn and hard to work with, but this is simply not true. Winky was willing to fight anyone, anywhere. He was willing to fight Felix Strum, anywhere, he was also willing to fight Abraham anywhere and these were all reasonable deals. It was about these guys being scared and I am putting my full credibility behind these claims."
"This is a fight boxing needs. It's the first big fight of 2009 in Las Vegas and we're glad to be back at the Mandalay Bay."
"Like I said after Bernard and Shane won their matches earlier on, this is the year of the legends. Winky is one of the true legends of the sport. He's on a mission, just like Shane was on a mission, and just like Bernard was on a mission. I like that he's the underdog."
Dan Goossen, President of Goossen Tutor Promotions:
"I know that there hasn't been a challenge that Winky has turned down. The proof is in the pudding; look at what he's done and who he's done it too."
"Winky is the most avoided man of the past decade because of what he's done in the ring. Paul is not avoided, but definitely feared and it's a big reason why we've moved across several weight divisions."
"This is a big fight and we are really concentrated on showing just how great Paul Williams is. The challenges he puts himself through are unparalleled."
"We feel Paul Williams will do what he does. He will be all offense and some great defense. The proof will be in the pudding on April 11th."
"This is the fight Paul wanted. What Winky's done in the last 10 years is remarkable. It's the big name that Paul has been looking for."
Chris Lighty, CEO of Winky Promotions:
"We have a great fight happening. Paul has come up through the ranks, grinding, just like Winky did when he was coming up."
"We will entertain, we have had some great fights in the past and we will continue to bring that to you. "
"Winky's had some great fights in the past 5 or 6 years, and although we didn't agree with the results, they were still great fights."
George Peterson, William's Trainer:
"One fighter is an offensive fighter, while the other is a defensive fighter. Statistically these are great fighters, so it will be exciting to see what will go on in the ring."
Tony Walker, Director of Affiliate Relations, HBO Sports:
"HBO's World Championship Boxing is very proud to present this fight on April 11th."
"These guys always take the risky fights and they always come prepared."
"Boxing has some great momentum at the moment,and on April 11th, Winky and Paul will definitely continue that push."
Bob Halloran, Director of Sports, MGM Mirage:
"These champs have fought the best."
"This is going to be Winky's 6th fight at the Mandalay Bay; he's had some great battles here. I know Paul was featured on the undercard of a Mayweather fight, so this is going to be his second fight with us. "
"Tickets for the show are affordable; you can get a great room and check out a great fight."
"I just recently checked the lines on the fight and Paul is the early favorite and I don't remember the last time I saw Winky as the underdog but it should make for a great fight."